Canterbury has been designing and crafting inspired site furnishings for over 50 years. We have forged enduring relationships with some of America's most prominent outdoor attractions and leading landscape architects.
We never set out to be the biggest site furniture company. We have never measured ourselves in terms of manufacturing square feet, number of products, or even the length of our customer list (in the thousands).
Instead, we define success by the customers who come back again and again, by the products that are still looking great years after we make them, and from the satisfaction of putting a small but pleasing signature on our community's parks and urban streetscapes.
We know that the key to quality lies in the small, but critical details that change with every project. That's why we offer more than a "rep" for our products; we work closely with you to provide an innovative solution that meets your design criteria and your budget.
Our History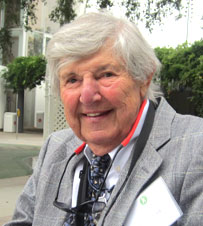 Like many companies, Canterbury Designs was born when preparation met chance. Canterbury got its start when founder Larry Snyder received a commission for a cast iron ornamental clock in 1962. Impressed with the beauty of Larry's clocks, designers and developers asked him to create site furniture for the shopping malls that began popping up across southern California in the '70s and '80s.
Larry soon had plenty of customers, but chose to add products and partners slowly to control quality. Within a few years, Canterbury had earned a reputation for well-fabricated, long-lasting site furniture made from superior materials.
At age 85, Larry found a new partner for the business. The Verdin Company, with a 175-year history of manufacturing outdoor clocks, bell towers and other amenities, had a culture of craftsmanship that was an ideal match for Canterbury.
In 2017, Canterbury turned another corner with a corporate re-branding that included the changing of its name from Canterbury International back to Canterbury Designs, the company's original name from its founding in the early 1960s. We also unveiled a completely new website and adopted a fresh new logo reflecting both the timeless, classic designs of our products and their continuing refinement with modern elements.  
Canterbury has the experience and versatility to create virtually anything you can imagine. Contact us to explore the possibilities for your next project.